| | |
| --- | --- |
| | |
| 24 hour old buck | 1 Day young doe |

Welcome to the Cibolo Creek Boer Goat Ranch web site. We started in the Boer goat business with a goal of producing champion quality goats. We have purchased many of the best does available. We are very proud at the quality of our breeding herd. Check out our photo gallery to see the type of boer goats quality we are producing. We have show quality wether kids on the ground now. These wethers are for sale , priced at $250. They will be strong contenders during next years show season.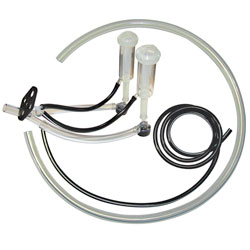 If you want silicone liners for milking goats, it is recommended to choose the one with automatic shut-off valve controlled by the vacuum. This is very ideal for rapid milking of goats and sheep. This is an assembly with silicone liner, including hose to connect bucket to pulsator. If you want to have these silicone liners molded to your needs, head out to Sprint Tech Inc. as they have the best compression and injection molding facilities.
We have 20 kids expecting to be born between January 1, and February 5, 2002. These kids are the off spring of some of the best does you will find anywhere. They are thick butted, stout, and healthy. Call early to reserve a wether as they won't last long. The older group is weaned and ready to go.
We have 3 bucks who were born on Augst 25, 2001. They are priced from $350 to $400. They range from 7/8 Boer to 15/16. Sired by Quality South African stock. These are quality bucks from top to bottom.
For additional information contact: Joel or Larry Arredondo (breeders) at (361) 539-4599 or sent mail to arredondo_joel@hotmail.com or cibolocreek@yahoo.com